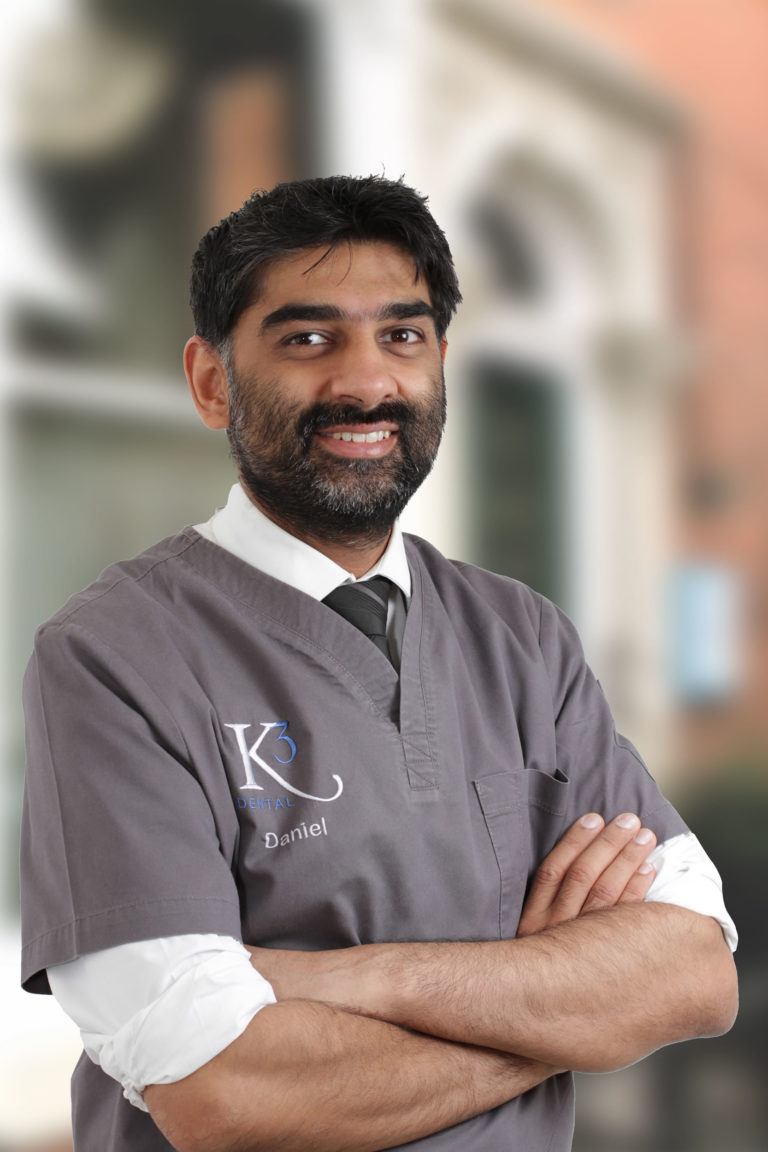 Associate Dentist
Consultant in Oral Surgery
FDS (OS) MSurg Dent MJDF RCS MFGDP (UK) MFDS RCS BDS
Daniel qualified from Bristol University in 2002. He has trained at the Royal Shrewsbury, Princess Royal Telford, Queen Elizabeth and Birmingham Dental Hospitals.
He has passed his MFGDP, MFDSRCS, MJDFRCS post graduate examinations and has successfully completed his consultant training in Oral Surgery. Daniel has over 10 years experience in Oral Surgery and works as a consultant at Birmingham Dental Hospital and is clinical lead for Oral Surgery at Sandwell General Hospital.
He teaches oral surgery to undergraduate and postgraduate students, and has widely presented and published on his specialist field both nationally and internationally. He places a great emphasis on ensuring his patients remain at ease and are
comfortable whilst undergoing surgical treatment.
Daniel is fully trained to provide treatment under sedation and has extensive experience in the management of nervous patients. He has a special interest in the management of jaw joint problems and dental implants.
Daniel is also a keynote speaker for Cerezen, a pioneering medical device used to treat TMJD.
He accepts referrals for:
Dental implants
Sinus lifts and bone grafting
Complex tooth extractions
Surgical endodontics
Expose and bond of impacted teeth
Frenectomies
Temporo-Mandibular Joint Disorders
Trevor Finney
Implant patient
Sunny and Daniel have been the ones to sort out 2 implants for me. I have found both of them to professional, and very personable. I was kept well informed about every stage of my treatment. Sunny even delayed his holiday by 1 day to finish my treatment. FULLY RECOMMENDED FAMILY PRACTICE! !!
I was treated and had suffered horrendous pain, abscess as well as significant cost by a private dental practice, until finally I found myself at K3 where Sunny and Daniel instantly diagnosed the problem and within half an hour, I left having had my tooth removed which had to be as an open procedure because of the mess the roots were in. Less than a week later, everything had healed, no pain, no swelling and no more tooth trouble. The care and expertise I received was exemplerary from referral right through to follow up. I have no hesitation in recommending this practice and specifically Sunny and Daniel. Thank you so much.
Thank you Sunny and Daniel for giving me my smile back, I love my teeth. I'm so happy. Thank you so much for all that you did, it means a lot. You have the best patient care skills. I have not stopped grinning.
Saturday Appointments
Our clinics run on Saturdays and are based at Thirty Four Dental in central Leicester. We also offer free 20 minute consultations (again, on a Saturday) which can also be booked online.
Transparent costs
You will be always be provided with a written estimate of the cost of your treatment. You can see a list of our fees which will give you an initial idea of what is involved.
Treatment Guarantee
We offer a one-year guarantee or our fillings, root fillings, crowns and dentures. We provide a five year guarantee on our dental implants provided you follow our maintenance advice.