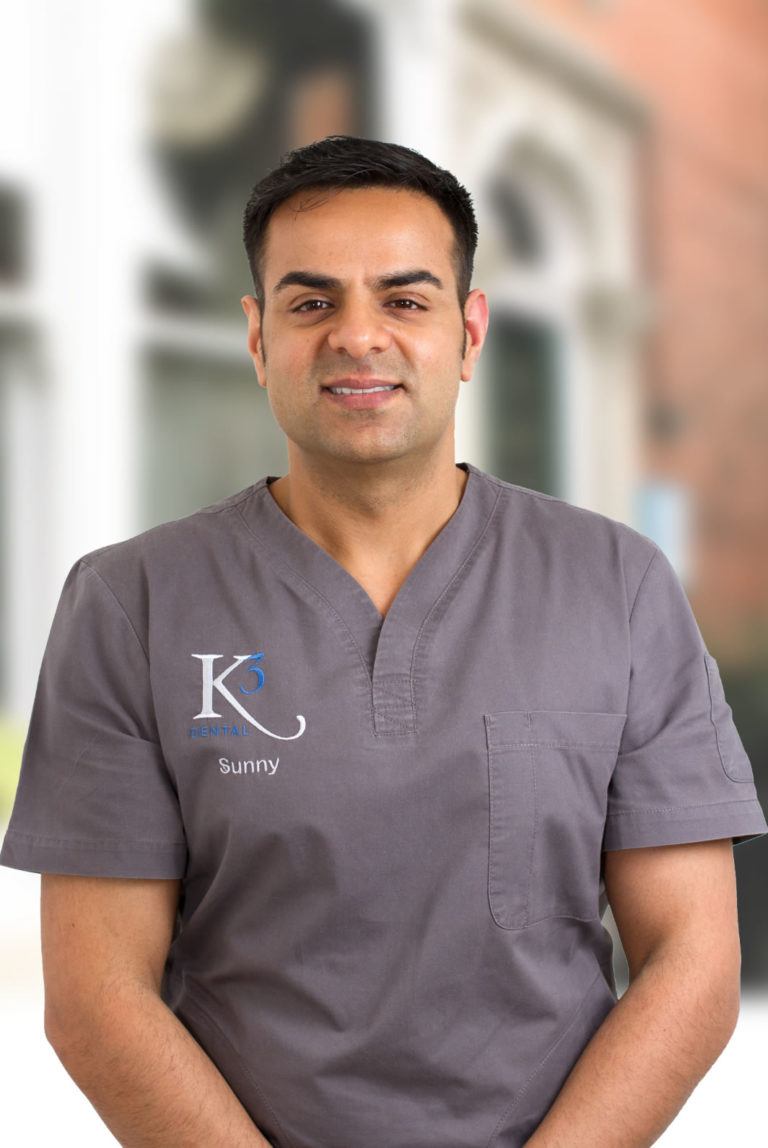 Practice Principal 
Specialist in Prosthodontics
Implant, aesthetic and reconstructive dentistry
BDS(dist) MJDF RCS (Eng) MSc Implantology MClin Dent (Pros) MPros RCS(Ed) PG Cert (Oral Surgery)
Sunny graduated in 2008 with distinction in clinical dentistry from the University of Birmingham and has gained extensive experience in various hospital positions in oral surgery, periodontics, prosthodontics endodontics and oral and maxillofacial surgeries in addition to general practice.
Sunny is a firm believer in continuing education and has obtained his diploma from the Joint Dental Faculties of the Royal College of Surgeons of England in 2011 and a Masters in Dental Implantology from the University of Manchester in 2013, where he has also held the position of honorary clinical lecturer.
Sunny works as a specialist and has successfully completed his four year specialist training program in Prosthodontics at King's College, Guy's Hospital London, passing with clinical distinction. He has also completed a post-graduate certificate in Oral Surgery from The University of Bristol.
Sunny is an active member of the International Team for Implantology (ITi), Association of Dental Implantology (ADI) and British Society of Prosthodontics.
Sunny prides himself in the compassionate, caring ethical manner in which he treats his patients.
He accepts referrals for:
Dental Implants including complex bone and sinus grafting
Teeth in a day/ All on Four Dental Implants
Management of toothwear
Complex crown and bridge work including full mouth rehabilitations
Removable prosthodontics
Surgical Dentistry
In his spare time, Sunny enjoys going to the gym, playing with his little daughter and is an avid Leicester City fan.
Hannah Jones
Periodontics patient
I was referred to this practice for a procedure that my own dentist could not carry out. I have never been more impressed with a dental practice in my life. The standard of care was outstanding. Like most people, I had a fear of dental treatment coupled with a fear of needles. Not a great combination when the treatment required a number of injections in my gum. I was visibly scared on my first visit. Sunny was very understanding of my fears and the dental assistant even held my hand when I had the first injections (this was pre COVID 19). I was treated with the greatest care and respect throughout my treatment. I would recommend this dental practice to everyone.
Irum K
Crown and Root Canal
I am delighted with my treatments with Dr Sunny Kotecha & Dr Sheena Kotecha. They were both gentle and efficient in dealing with my complex crown & root canals. I will be back soon for my sons' braces. A happy Irum
I was treated and had suffered horrendous pain, abscess as well as significant cost by a private dental practice, until finally I found myself at K3 where Sunny and Daniel instantly diagnosed the problem and within half an hour, I left having had my tooth removed which had to be as an open procedure because of the mess the roots were in. Less than a week later, everything had healed, no pain, no swelling and no more tooth trouble. The care and expertise I received was exemplerary from referral right through to follow up. I have no hesitation in recommending this practice and specifically Sunny and Daniel. Thank you so much.
Trevor Finney
Implant patient
Sunny and Daniel have been the ones to sort out 2 implants for me. I have found both of them to professional, and very personable. I was kept well informed about every stage of my treatment. Sunny even delayed his holiday by 1 day to finish my treatment. FULLY RECOMMENDED FAMILY PRACTICE! !!
Thank you Sunny and Daniel for giving me my smile back, I love my teeth. I'm so happy. Thank you so much for all that you did, it means a lot. You have the best patient care skills. I have not stopped grinning.
Lyndsay Cardall
Dental patient
I first saw Sunny for an emergency dental appointment, he was thorough and caring and referred me to have my wisdom tooth removed Which had been causing me problems for years but most dentists I saw were reluctant to remove it due to the risk of nerve damage.

Sunny took the time to explain the very low risk on the x-ray and I went ahead to k3 for treatment. I saw the surgeon Daniel and his dental nurse. Although I was extremely nervous and it was not a nice thing to have done I actually walked out of the practice laughing!

They were both fantastic at keeping me calm Which is not an easy thing to do in my case. I have had nothing but good experiences and will not hesitate in returning if I need any other procedure!
Saturday Appointments
Our clinics run on Saturdays and are based at Thirty Four Dental in central Leicester. We also offer free 20 minute consultations (again, on a Saturday) which can also be booked online.
Transparent costs
You will be always be provided with a written estimate of the cost of your treatment. You can see a list of our fees which will give you an initial idea of what is involved.
Treatment Guarantee
We offer a one-year guarantee or our fillings, root fillings, crowns and dentures. We provide a five year guarantee on our dental implants provided you follow our maintenance advice.