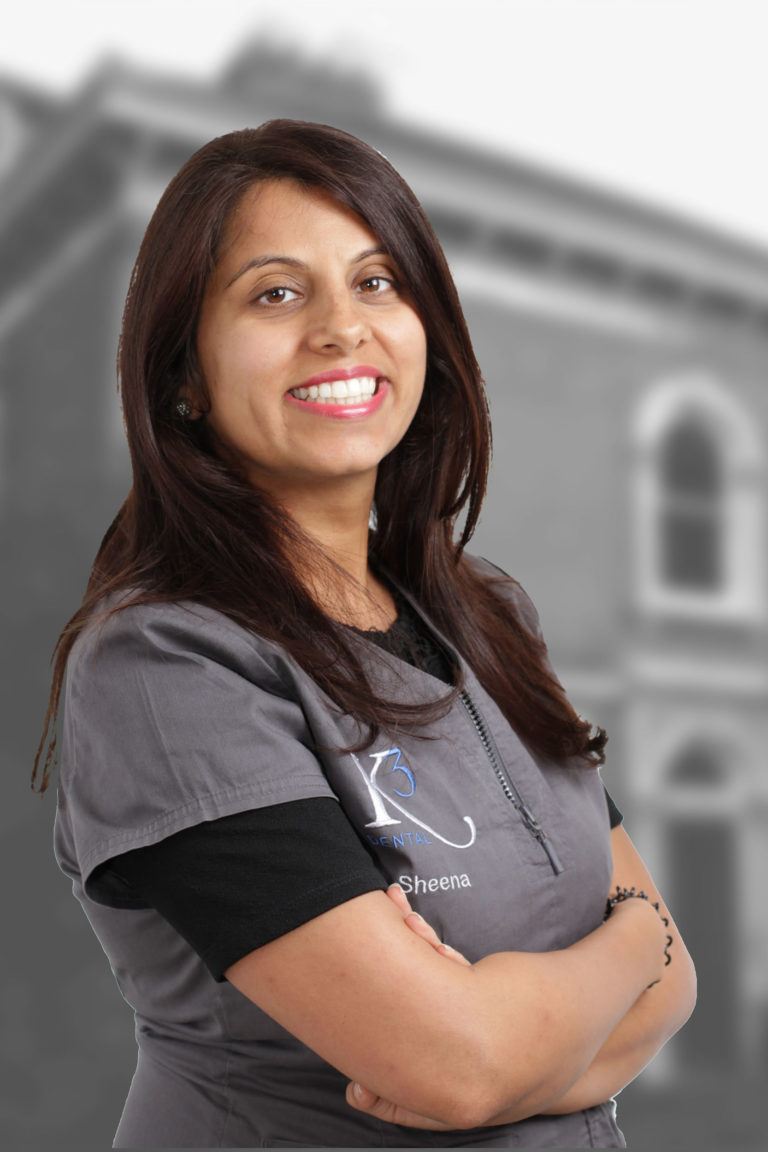 FDS (Ortho) MPhil MOrth RSC (Edin) PG Cert Med Ed BDS Hons (London)
Sheena qualified with honours from Guy's, Kings and St Thomas School of Medicine and Dentistry where she was runner up for the London Gold Medal. She completed specialist training in Orthodontics at Birmingham Dental Hospital in 2011 and did a further two years of training to reach consultant level.
She was awarded a clinical prize from the British Orthodontic Society in 2012. Sheena is a Consultant at Birmingham Dental Hospital and University Hospitals North Midlands. She also runs the training programme for orthodontic trainees in the West Midlands. In addition, she is an examiner for the Royal College of Surgeons of England and Edinburgh.
She offers treatment using ceramic (tooth-coloured brackets),
Invisalign and Incognito (brackets stuck on the inside of the teeth). Her special interests include adult orthodontics and the  management of missing teeth. Sheena focuses on providing patients with high quality care in a friendly and caring manner.
Outside of work Sheena enjoys spending time with her little girl, reading and swimming.
Priya K
Orthodontics patient
My daughter is eligible to have her orthodontic treatment on the NHS , but we have opted for K3 again. She has so far had 6 teeth extracted and has had braces fitted on the top and bottom, throughout all the treatments she was made to feel comfortable, put at ease and constantly explained each preocedure. The treatment has been carried out with such care that she has not needed any time of school. The staff are courteous and professional yet very friendly. A bonus for us is that they have clinic on a Saturday hence the children need not miss school. I would highly recommend K3 dental without any reservation for their excellent all round approach.
Irum K
Crown and Root Canal
I am delighted with my treatments with Dr Sunny Kotecha & Dr Sheena Kotecha. They were both gentle and efficient in dealing with my complex crown & root canals. I will be back soon for my sons' braces. A happy Irum
Catherine Parry
Teeth Straightening Patient
From start to finish an excellent service from Sheena Kotecha. Referred to her by my dentist, Sheena's brother Sunny, I was pleased to have such a reassuring experience in having my teeth straightened. I didn't quite know what to expect but sheena's professionalism and calming ways made it much easier to have braces fitted.

The result was very good and exceeded my expectations.
Saturday Appointments
Our clinics run on Saturdays and are based at Thirty Four Dental in central Leicester. We also offer free 20 minute consultations (again, on a Saturday) which can also be booked online.
Transparent costs
You will be always be provided with a written estimate of the cost of your treatment. You can see a list of our fees which will give you an initial idea of what is involved.
Treatment Guarantee
We offer a one-year guarantee or our fillings, root fillings, crowns and dentures. We provide a five year guarantee on our dental implants provided you follow our maintenance advice.